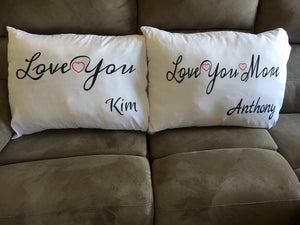 Love you, Love You More Gift Sets
Valentines Day Gift Set/ Love you, Love You More Gift Sets/ Wedding Gift Set/ Anniversary Gift Set/ Couples Gift Set/ His Hers Pillowcases
Surprise your better half with breakfast in bed this Valentine's Day! This gift set makes the perfect couples gift for any occasion.
This set includes: - (2) standard size pillowcases personalized with Love You and a name on one and Love You More and a name on the other. Pillows not included. Message us for the availability of larger sizes. - (2) mugs personalized with Love You on one and Love You More on the other. - (1) galvanized serving tray with foldable wooden legs for easy storage (personalization optional in permanent vinyl). - (1) eyemask
The prints are made by digital direct printing using safe and non-allergenic inks, allowing for a natural feel that is so soft you can't feel the image. Our printing method dyes the image into the fabric, in an Eco-Friendly process that won't crack, peel, or fade.
Pillowcase openings are on the outside edges for easy access. All our pillow cases are made, printed and designed in the USA. - 100% Soft, Brushed Polyester Material or Satin - Bright White, Wrinkle Resistant Fabric PRODUCT DETAILS ♥ Set contains: two pillowcases, 2 mugs, 1 serving tray, 1 eye mask ♥ Color: white with black print and red hearts, serving tray is galvanized with wooden legs, eye mask is red with black eyelashes. ♥ Closure: pillowcases- outside ends ♥ Words inscription: Love You - Love You More and names on pillowcases. Love You and Love You More only on mugs. Optional Name on serving tray, eyelashes only on eyemask. ♥ Mugs are ceramic stoneware. ♥ Serving tray is galvanized and wood. Wooden legs fold up for easy storage. 18.11"W X 12.20"D X 7.48"H ♥ Eye Mask is one size fits most with elastic straps. PRODUCT CARE ♥ Wash at temperature 40 degrees C. ♥ Wash without the use of chlorine. ♥ It can be ironed at high temperaturę. ♥ Treat it with care and love. ♥ Mugs are dishwasher and microwave safe. ♥ Serving tray should be wiped clean with damp cloth. Do not submerge in water. Not microwave and dishwasher safe. We LOVE doing custom orders, message us with any questions.
---